Wallys industrial wifi6 2.4G router/IPQ5018, 802.11ax,wifi 6e,QCN9074,support BT5.1
Wallys industrial wifi6 2.4G router/IPQ5018, 802.11ax,wifi 6e,QCN9074,support BT5.1
APPLICATIONS
Profi WiFi hotspot coverage
Commercial radio coverage
Hotel Wireless application
Country coverage
Internet for passengers (bus, train, plane, …)
Security Surveillance
Some special scene application
Heavy-duty industrial environment use
Dual-core ARM 64bit A53@1.0GHz Processor
512MB DDRL3L System Memory
4MB NOR Flash, 128MB NAND Flash
2x2 On-board 2.4GHz radio,up to 573Mbps physical Data Rate
Support BT5.1
M.2 Card Slot for 5G (QUECTEL RM 500Q-GL) ;
本文版权归作者和AIQ共有,欢迎转载,但未经作者同意必须保留此段声明,且在文章页面明显位置给出
M.2 Card Slot for QCN9074https://www.wallystech.com/Network_Card.html WIFI 6E Card
| Parameter | Rating | Unit |
| --- | --- | --- |
| Supply Voltage | 12 | V |
| Operating Temperature Range | -40 to +70 | ºC |
| Storage Temperature Range | -45 to +105 | ºC |
| Operating Humidity Range | 5 to +95 (non-condensing) | % |
| Symbol | Parameter |
| --- | --- |
| CPU | Qualcomm-AtherosIPQ5018 |
| CPU Frequency | Dual-core ARM 64 bit A53 @1.0 GHz processor |
| System Memory | 512MB DDR3L 16-bit interface with 32-bit memory bus design |
| Ethernet Port | 4 x 1Gbps Ethernet Ports or 1 x 1Gbps Ethernet Port & Poe |
| NGFF Slot | M.2 Card Slot for 5G (QUECTEL RM 500Q-GL) ;M.2 Card Slot for QCN9074 WIFI 6E Card |
| EMMC | 4G/8G(optional) |
| USB /header | 1x USB 3.0 Port |
| POE | NA |
| DC Jack | 12V power supply |
| LED header | LED for power ,Wifi strength |
| Serial Port | support |
| Wireless | On-board 2x22.4GHz MU-MIMO OFDMA 802.11b/802.11g/802.11n/802.11ax,max 23dBm per chain2x IPEX Connectors |
| Bluetooth | BT5.1 |
| Nor Flash | 8MB |
| Nand Flash | 128 MB |
| DDR | 512MB |
| Dimension | 170mm x 120mmx 15mm |
| | Radio TX Specifications(2412MHz-2482MHz) |
| --- | --- |
| Operating Mode | Data Rate | Power | Tolerance |
| --- | --- | --- | --- |
| 1 Chain | 2 Chains | | |
| 2.4Ghz 802.11ax HE20 | MCS0 | 23dbm | 26dbm |
| MCS1 | 23dBm | 26dBm | ±2dB |
| MCS2 | 23dBm | 26dBm | ±2dB |
| MCS3 | 23dBm | 26dBm | ±2dB |
| MCS4 | 23dBm | 26dBm | ±2dB |
| MCS5 | 23dBm | 26dBm | ±2dB |
| MCS6 | 23dBm | 26dBm | ±2dB |
| MCS7 | 22dBm | 25dBm | ±2dB |
| MCS8 | 21dBm | 24dBm | ±2dB |
| MCS9 | 21dBm | 24dBm | ±2dB |
| MCS10 | 18dBm | 21dBm | ±2dB |
| MCS11 | 17dbm | 20dbm | ±2dB |
| 2.4Ghz 802.11ax HE40 | MCS0 | 23dbm | 26dbm |
| MCS1 | 23dBm | 26dBm | ±2dB |
| MCS2 | 23dBm | 26dBm | ±2dB |
| MCS3 | 23dBm | 26dBm | ±2dB |
| MCS4 | 23dBm | 26dBm | ±2dB |
| MCS5 | 23dBm | 26dBm | ±2dB |
| MCS6 | 23dBm | 26dBm | ±2dB |
| MCS7 | 22dBm | 25dBm | ±2dB |
| MCS8 | 21dBm | 24dBm | ±2dB |
| MCS9 | 21dBm | 24dBm | ±2dB |
| MCS10 | 21dBm | 24dBm | ±2dB |
| MCS11 | 19dbm | 22dbm | ±2dB |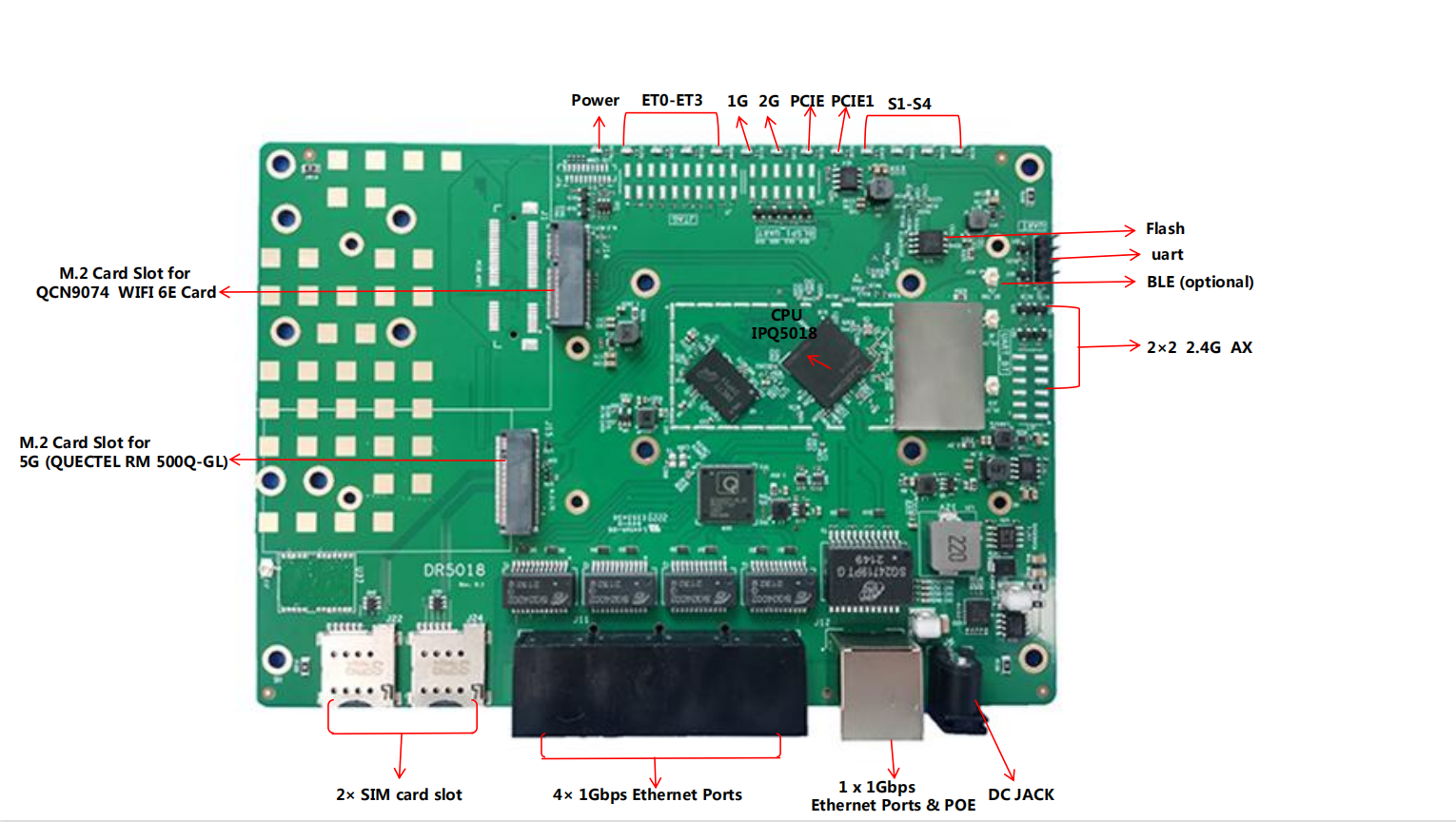 We'll start with a quick review of how Wi-Fi has changed over the years.
In fact, the earliest generation of 802.11 standard can be traced back to 1997, when the wireless speed is very low, only 2Mbps, it is an original standard of the first generation .
With the introduction of 802.11b in 1999, the physical layer speed was increased to 11Mbps and there were very few commercial applications. At that time, Wi-Fi was still far away from people's lives
In 2003, the third generation of the standard, 802.11a/ g. Laptop began to configure wireless network card and home wireless router appeared in large quantity . Wi-fi comes into ordinary family.
EMAIL:sales@wallystech.com
WEB: https://www.wallystech.com/
Youtube: https://www.youtube.com/channel/UClmu7LBz_OWxe2VckkQr3tw